A letter to the director:
Nathan,
Thank you, and your entire film crew, for creating one of the most beautiful and powerful films that I have seen.  From the opening words until the end scene our audience of 250 watched in awe as you took them on a journey into the spirit.  It is difficult, even a few days removed, to try and capture the swell of emotion and profound dialogue that took place at the conclusion of the film.  Audience members reflected on the individuals who appeared in the story, many linking the experiences of those on the screen to their own lives.  One man was shared that he was struggling to understand God, knowing that Ricky survived, yet his own daughter took her life.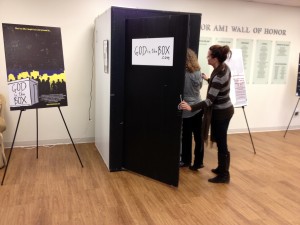 One sentiment I think captured the essence of the night, "From the moment the movie began, until the end of the film, I felt like I was in the box.  It was my time to explore my own relationship with God, as I took the journey with all those who entered the box."
I am grateful to have experienced this film, and for having shared it with my congregation.
-Rabbi Adam Miller, Temple Shalom, Naples FL
Thank you, Rabbi Miller.  Thank you.  It means so much to hear the film and event had such a wonderful impact on you and your congregation.  Thank you for sharing.
-Nathan Lang, director/producer "God in the Box"
See God in the Box for yourself right now during our Global Sneak Peek for the holidays! http://godinthebox.com/global-sneak-peek/